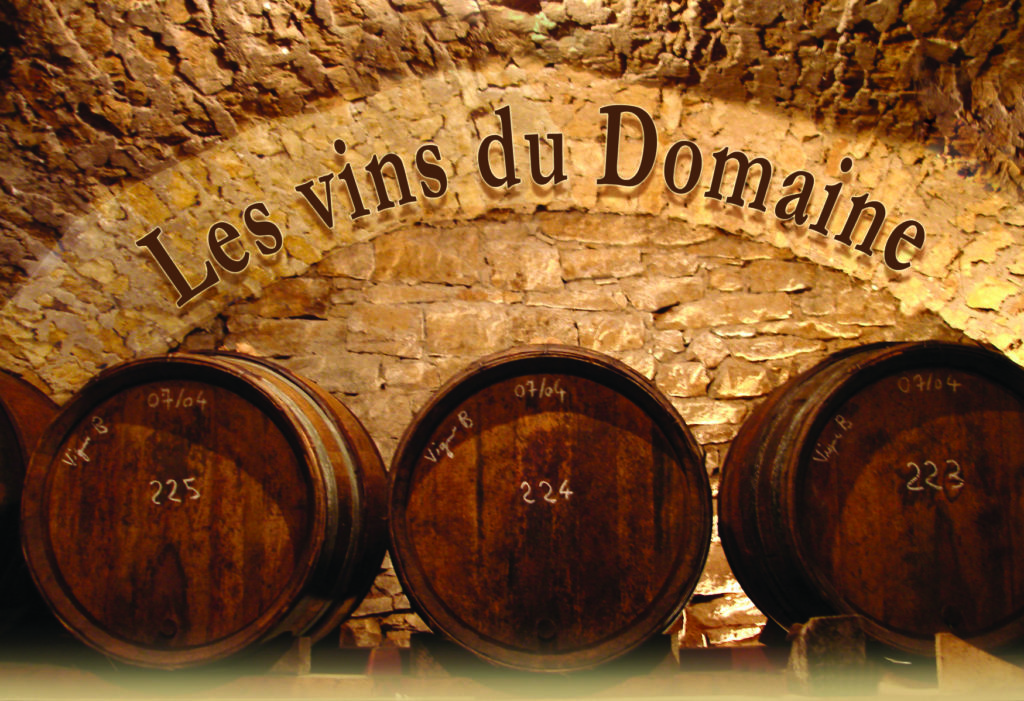 The work in the cellar :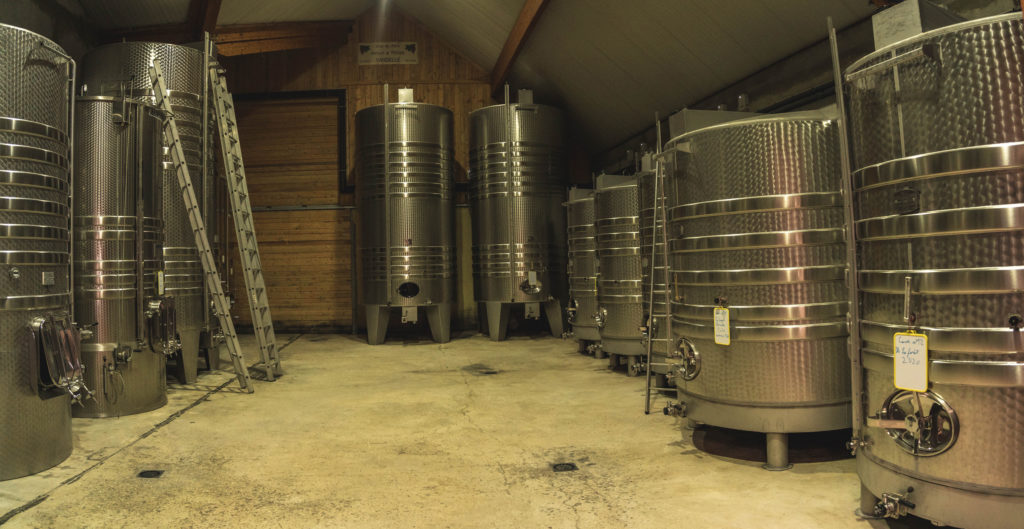 Our philosophy is the same as in the vineyard. Jura wines are noble, living products. They must be listened to, cajoled with love and patience. We only intervene when necessary with a minimum use of sulphur. We vinify all our wines in thermo-regulated stainless steel tanks. Depending on the cuvée, we choose the ideal fermentation temperature for the life of the yeasts. The development of the aromas will be different according to the temperature chosen. For example, a Crémant du Jura that is meant to be floral will ferment at 18°C. A white from L'étoile, where we are looking for the typicality of the terroir, will ferment at 22°C. For the maceration of Côtes du Jura reds, it can be left to rise to 28°C in order to extract a maximum of anthocyanins*.
Once this vinification is completed, and after having let the wines rest for the winter, the white wines of the Jura will be put in barrels for a period ranging from 6 months to 6 years depending on the cuvée.
The Crémants du Jura will be bottled during the winter for the famous « prise de mousse ».
*Anthocyanins are the pigments responsible for the colour, they are present in the skin of grapes. They have health benefits. They limit the risk of cardiovascular disease, strengthen the immune system…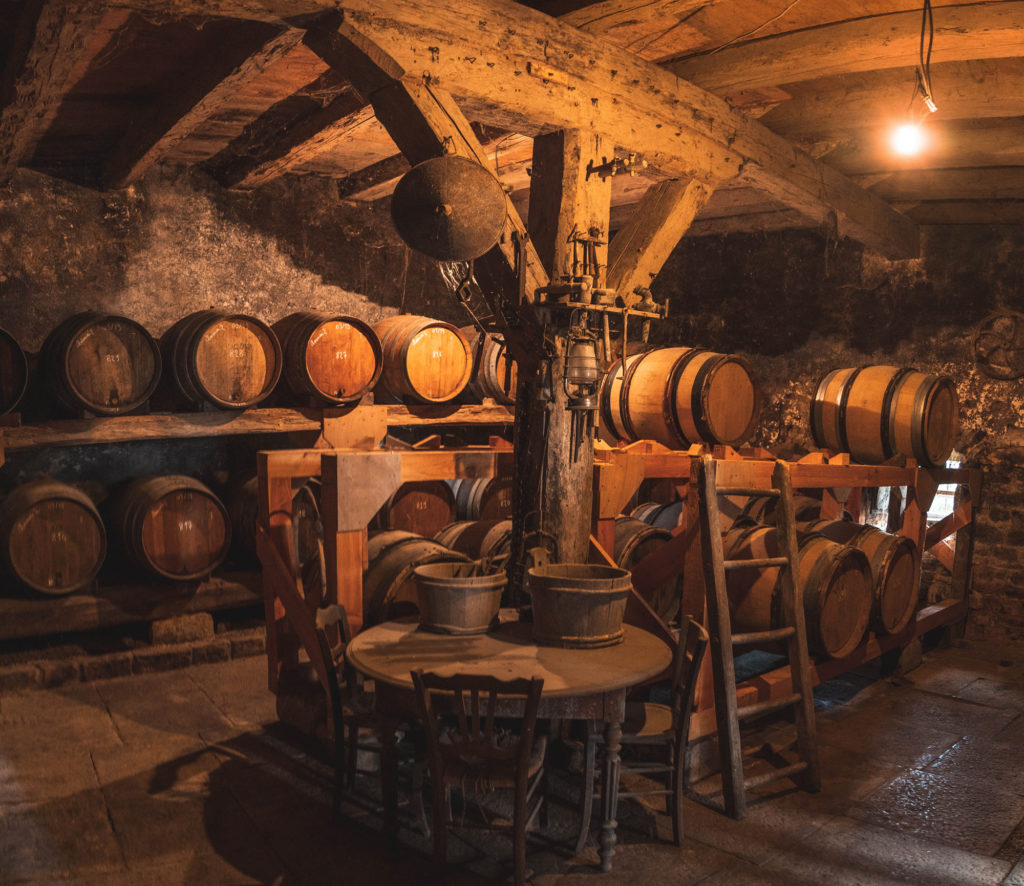 The white wines of the Jura : ETOILE
The white wines are produced from the Chardonnay grape variety (locally called Gamay blanc) and Savagnin. The Etoile appellation allows us to vinify them on their own or blended, whether or not they are oaky. Depending on the method of maturation chosen, two types of aromas can be distinguished.
Oaky wines are said to be floral. The wine is matured away from the air by filling the barrel regularly to compensate for evaporation, which is called the « angels' share » (cuvée de la Chainai Ouillée). This preserves the character of the grape variety and the terroir of the plot.
Ageing under veil consists in not filling the barrel. A veil of natural yeast will develop on the surface of the wine, protecting it from excessive oxidation. This saccharomyces cerevisiae transforms the aromas and develops the unique nutty taste that is so typical of Jura wines.
On the estate, 95% of our vintages are destined for the veil in the pure Jura tradition.
Chardonnay
Aged in oak barrels for 6 months without being topped up, this cuvée with its nose of flowers, its brioche and saline mouth, offers a very pleasant wine.
Accompanies starters, fish, cheese soufflé…
Serve between 10 and 12 °C.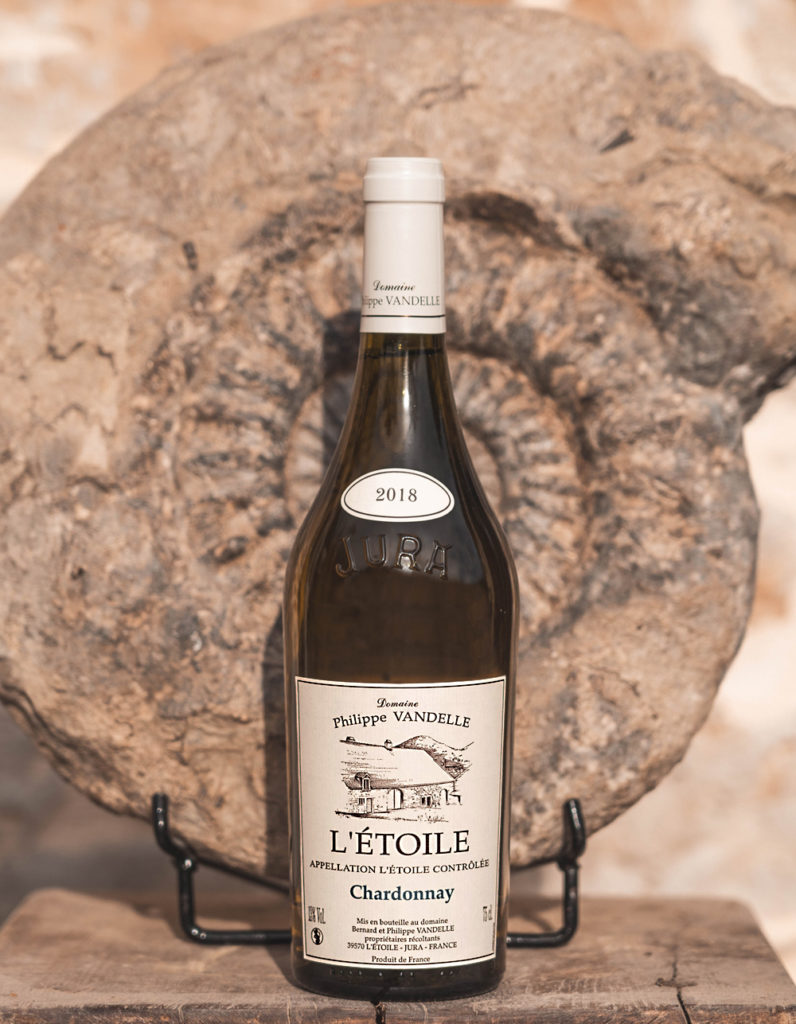 Chardonnay Tradition
This Chardonnay is aged for 18 months under veil. A nose of hazelnut, it offers a full mouth with fatness and elegance.
This wine goes well with snails, white meats with cream, fondues, Comté cheese…
Serve between 14 and 16°C.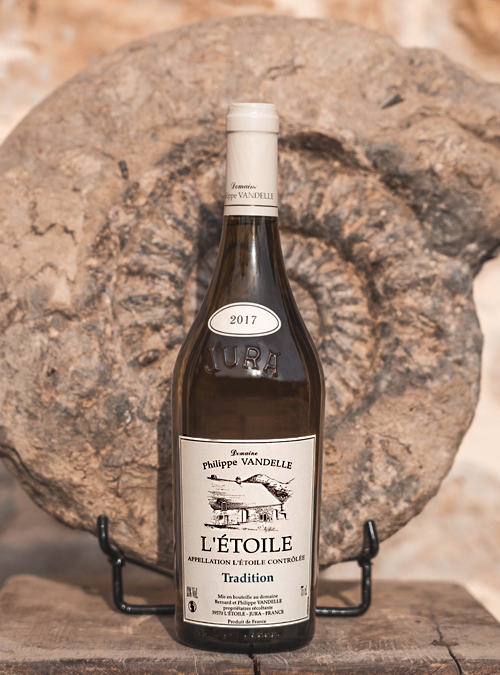 Vieilles Vignes
Made from vines that are 50 years old or more, this cuvée, 80% Chardonnay, 20% Savagnin, has been aged for 2 years in barrels under veil. An intense nose, a full mouth is offered to you, with mineral, saline, nutty and spicy notes.
Accompanies white meats with cream, fondues, comté cheese…
Serve between 14 and 16 °C.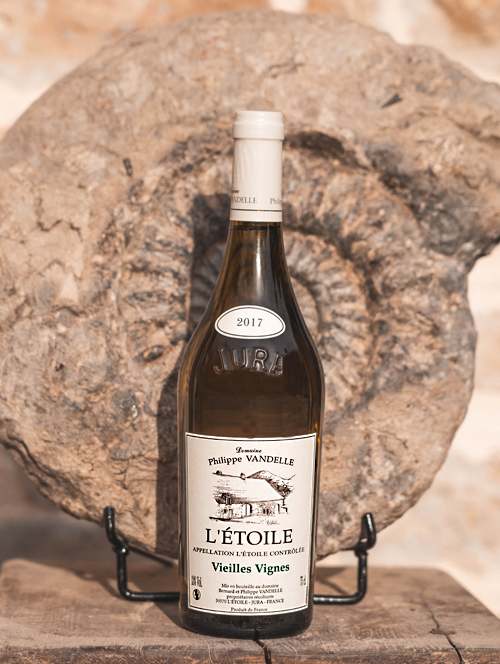 Savagnin
Aged under veil for 3 years, this pure Savagnin is delicately spicy on the nose. Powerful and mineral on the palate, it offers a finish of fresh nuts. This wine goes well with spicy dishes, white meats with cream, fondues, comté cheese…
Serve between 14 and 16°C.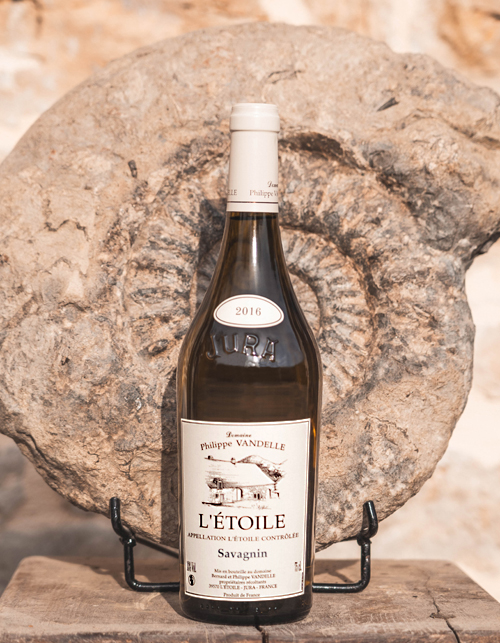 La Chainai Ouillée
100% Savagnin, this cuvée has taken full advantage of the white marl of the place called « la Chainai ». Aged for 1 year in oak barrels, it preserves the character of the grape variety and the terroir. Its nose of white flowers, its iodized mouth, powerful with citrus notes will surprise you. Serve between 10 and 12°C with starters, fish, oysters and shellfish…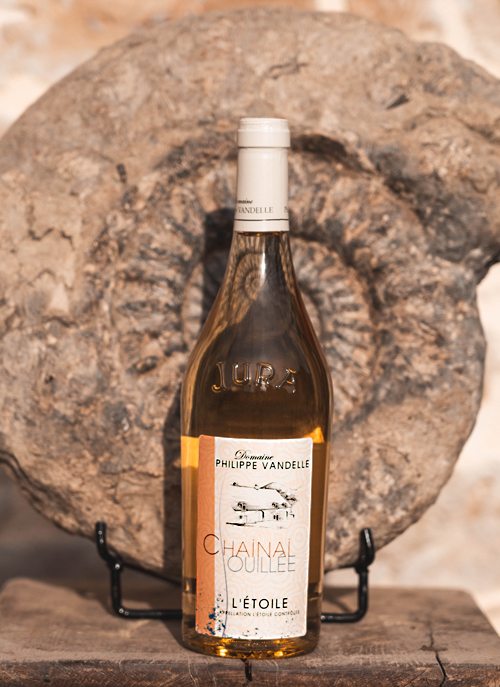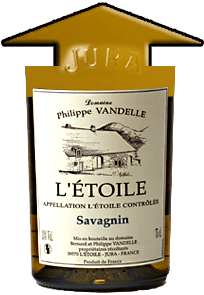 The YELLOW WINE : The most prestigious
This is the most prestigious wine of the Jura vineyards. It comes only from the harvest of Savagnin cultivated on the marls of the Lias. We wait until the maturity is perfect, exceeding 13° potential alcohol.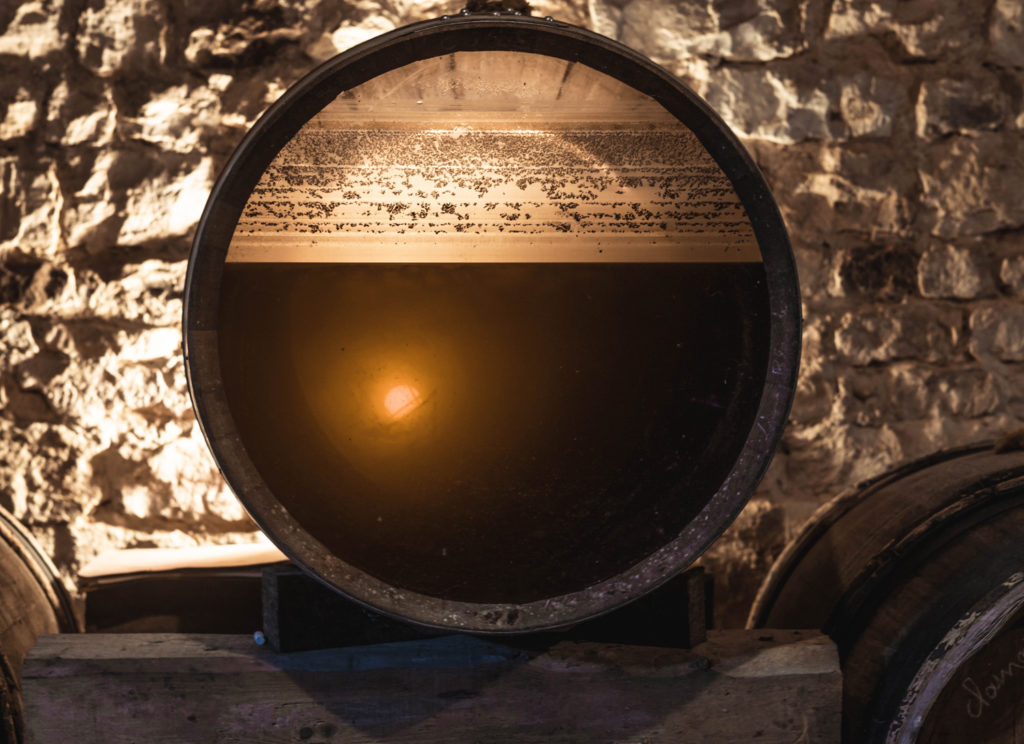 After a minimum of six years' ageing in casks, without racking or topping up, we « can » obtain a yellow wine.
This Jura wine is obviously very atypical and unique in the world.
A yellow colour, a powerful nose, aromas of nuts, spices (curry, ginger), characterise it.  It is a « vin de garde » which can keep its virtues for more than a century. It is presented in a special bottle called the « Clavelin » whose origin is very old. Indeed, in 1506, Marguerite de Bourgogne granted a concession to the Vieille-Loye glassworks. The yellow wine is drunk at room temperature (14-16°C) and goes well with snails, creamy dishes, exotic cuisine, cheese… It is used a lot in cooking and the coq au vin jaune et aux morilles is a delicious example
.
Le Vin de Paille
Beautiful, healthy bunches of grapes are harvested very carefully by hand. In the past, they were dried on straw (hence the name). Nowadays, they are placed on wire racks or hung on wires. Laying them out like this for several months, the grapes will concentrate their sugar content.
They are pressed when the potential alcohol content is 19 to 22°, often in December. This highly concentrated nectar will be aged for 3 years in barrels. The wine obtained is heady, mellow, complex and exceptionally fine.
It develops aromas of candied fruit, prune, honey and caramel. Serve as an aperitif, with foie gras, or a chocolate dessert… between 8 and 10°C.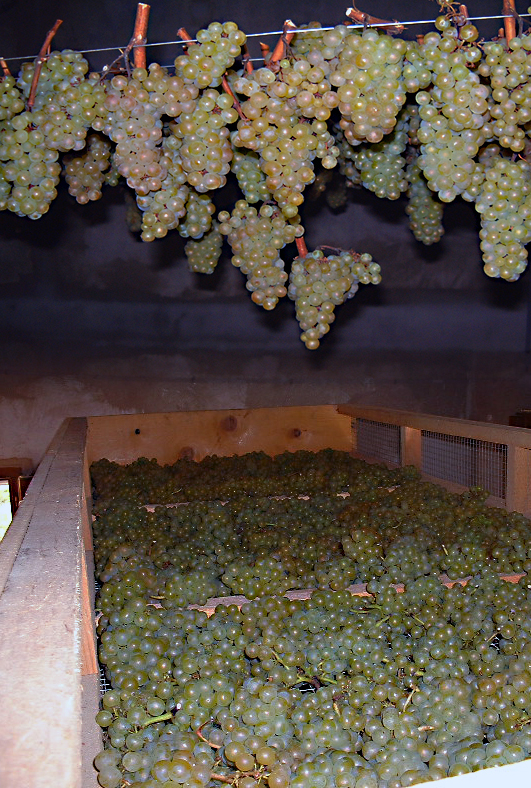 Les Rouges et Rosés : Côtes du Jura
Poulsard
A pastel red colour, a nose of red fruits (Morello cherry), acidulous and fruity on the palate, this typical Jura grape variety, with its thin skin, is very subtle. Serve with terrines, cold meats, grilled meats, quiches… between 11 and 13°C
Poulsard rosé d'été
The Poulsard, with its thin-skinned berries, is vinified in this cuvée as a rosé de saignée. Light and fruity, with notes of strawberry and cherry, it is very drinkable. Serve with grilled meats, cold starters, a summer picnic… between 6 and 8°C.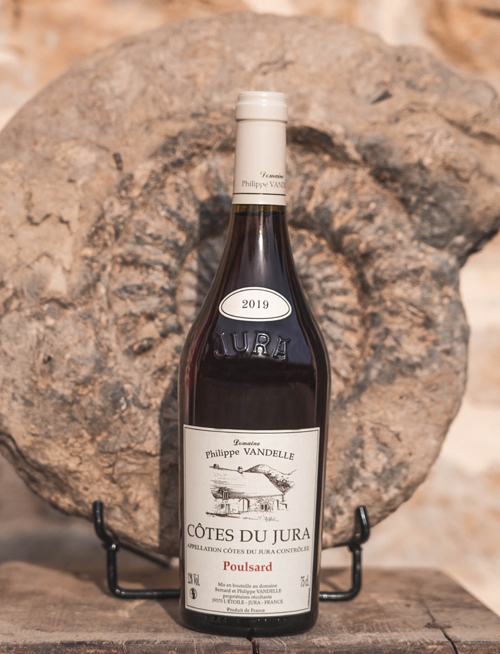 Trousseau
Another typical Jura grape variety, with a spicy nose, cooked strawberry and pomegranate, it is peppery on the palate, with silky tannins and a very pleasant fruitiness.
Goes wonderfully with Morteau, grilled meats, small game in sauce and Morbier cheese… between 13 and 16°C.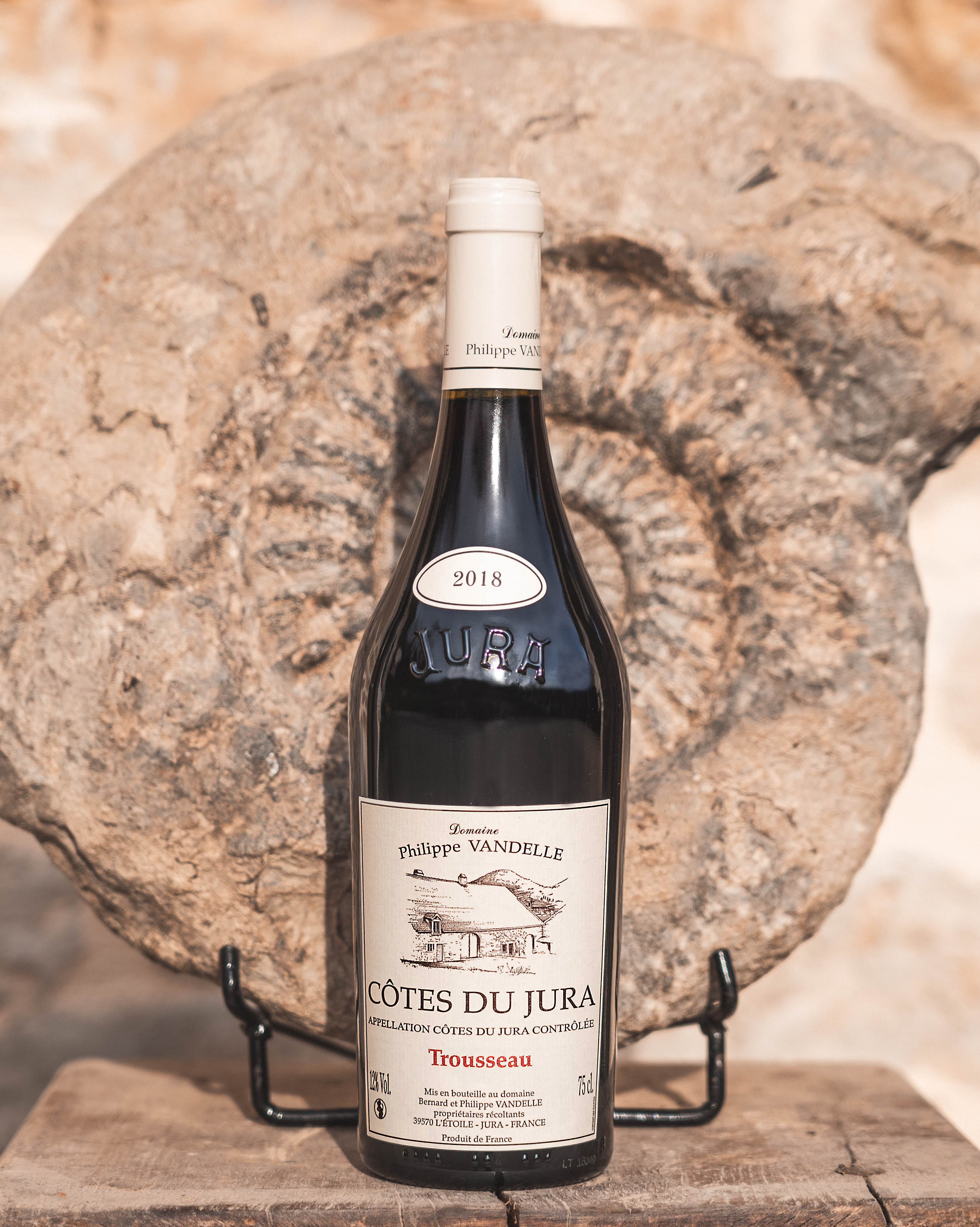 Pinot noir
Its deep colour announces the colour. An intense nose of black cherry, a rich, fruity mouth, with delicate tannins, the pinot reveals all its tonality. Serve with red meats, poultry, cheese… between 13 and 16°C.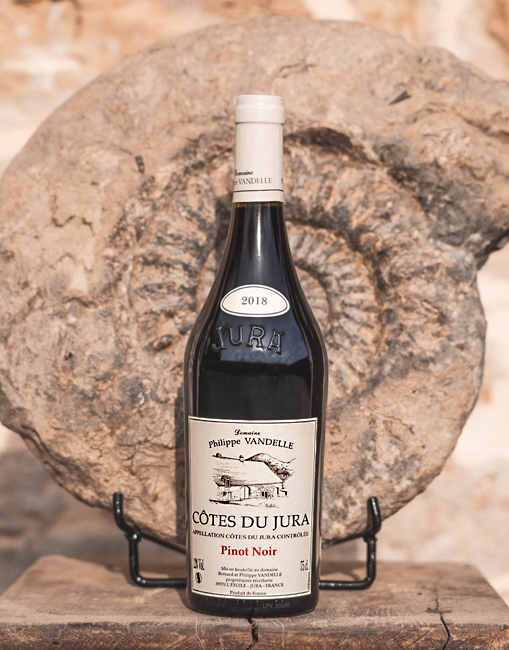 Crémant du Jura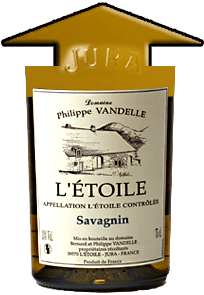 It is harvested by hand and pressed according to strict rules (150 kg of grapes give 100 litres of must).
It is made according to the traditional method: a second fermentation in the bottle, called « prise de mousse », is triggered, then aged for a minimum of 12 months on laths.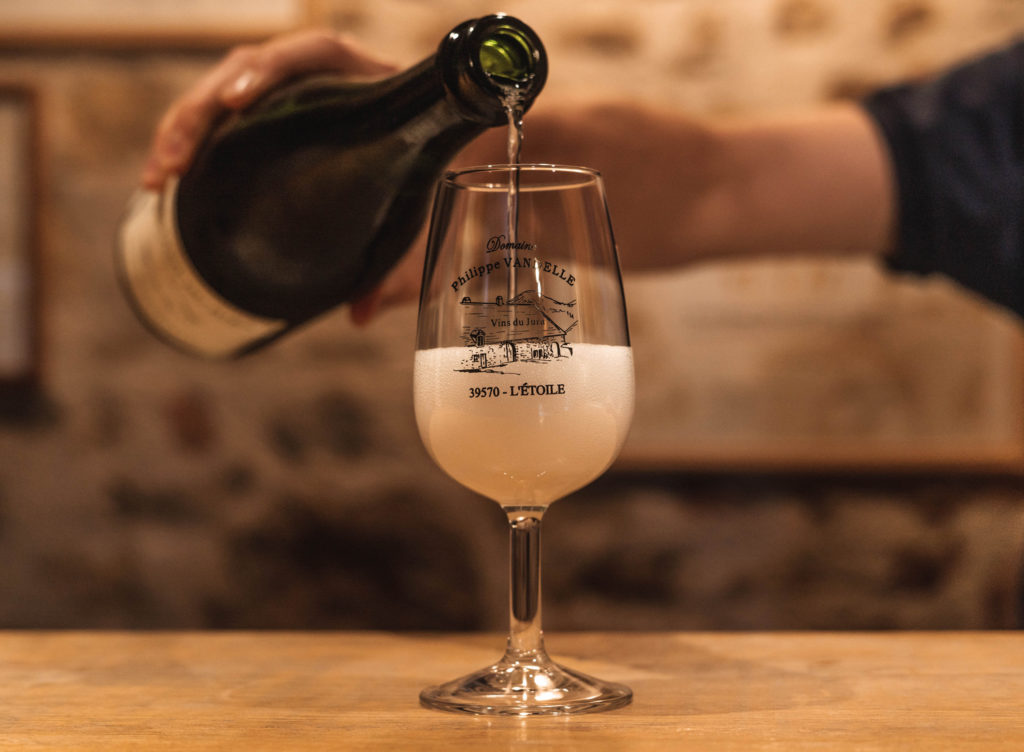 Crémant Blanc
This Crémant du Jura, white of white, is pure Chardonnay. It has a light colour, with a few golden reflections around the fine bubbles. The bouquet offers floral notes of hawthorn and citrus fruit. The palate is generous, mineral and saline, linked to the terroir of the star, with aromas of white fruits, green apples and brioche.  This sparkling wine is of a rare elegance that makes the pride of a good glass shared between friends. Accompanies aperitifs, cocktails, desserts…at 8°C.
Crémant Rosé
This Crémant du Jura is made from Pinot Noir grapes. Around its fine bubbles, its colour is salmon. It has a nose of small red fruits, almond and toasted bread notes. Rich and unctuous, its mouth also shows minerality and a beautiful tension. To be served with aperitifs and desserts…at 8°C.
Le Macvin du Jura
This ancestral speciality is obtained by blending Marc du Jura brandy and grape must. The brandy used comes exclusively from the farm and must have been kept for at least 18 months in casks.  Once blended, the Macvin ages for at least one more year in barrel. It harmonises its alcohol and fruity flavours, developing aromas of candied fruit and cinnamon. Serve as an aperitif, with melon, or a dessert… between 6 and 8 °C.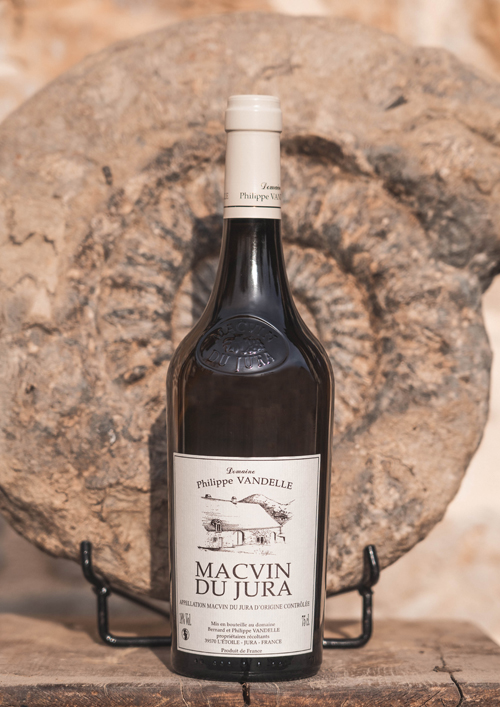 Le Vieux Marc du jura
The Vieux Marc du Jura is obtained by distilling grape marc and then aged for a minimum of 8 years in barrels. This digestif should be served between 18 and 20°C.